Compiled by Phil Beaumont (techIOSH AIIRSM) Circular Tayside Ambassador
The circular economy concept has deep-rooted origins and cannot be traced back to one single date or author. Its practical applications to modern economic systems and industrial processes, however, have gained momentum since the late 1970s, led by a small number of academics, thought leaders and businesses. Less than a quarter of UK adults confidently understand the term 'circular economy'.
A traditional "take, make and dispose" linear economy involves taking resources from the ground, air, and water; making them into products and structures; then disposing of them. In a linear economy, materials flow in a straight line from resource extraction through manufacturing, to landfill. A linear economy is characterised by two unsustainable processes, resource scarcity and excessive pollution load. Both cause ecosystem degradation, wealth concentrations and social inequities.
The circular economy is a model of production and consumption, which involves sharing, leasing, reusing, repairing, refurbishing, and recycling existing materials and products for as long as possible. In this way, the life cycle of products is extended.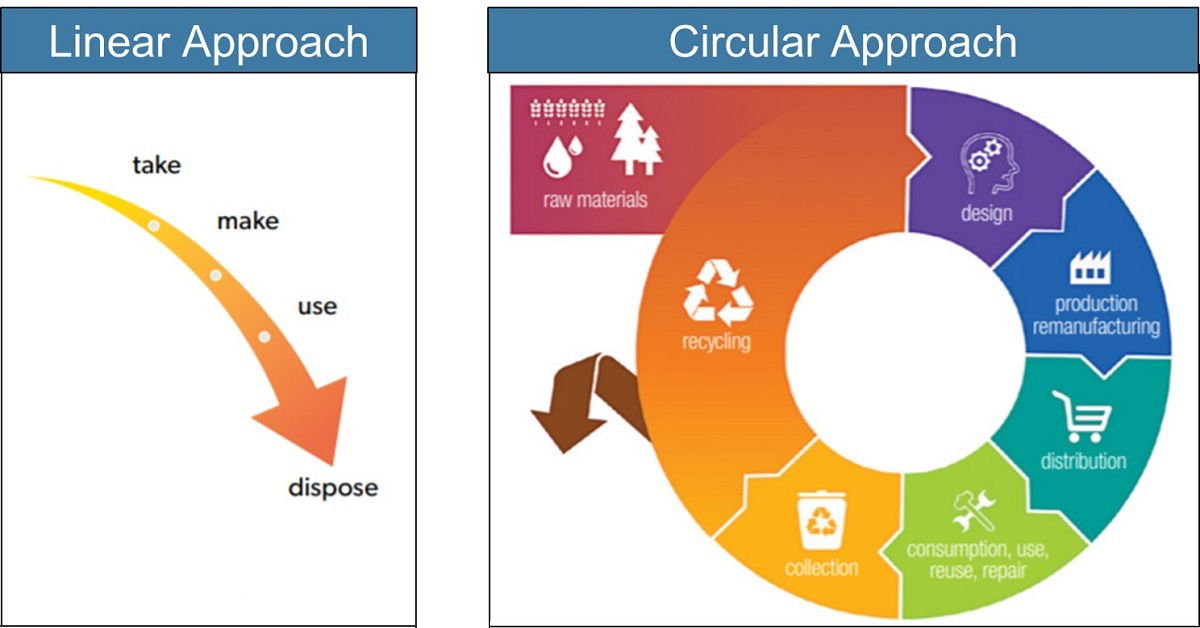 A circular economy aims to redefine growth, focusing on positive society-wide benefits. It entails gradually decoupling economic activity from the consumption of finite resources and designing waste out of the system.
Circular economy models itself on the natural environment in which nothing is wasted. A plant grows from sunlight and is eaten by an herbivore, which is eaten by a carnivore, which eventually dies and decays to feed fungi, which eventually becomes soil where plant growth can begin again.
The global population continues to grow rapidly, increasing demand for raw materials, while supplies are decreasing. In this circular economy, there will be no more waste, as resources will be reused again and again.
A 'circular economy' model, which employs not only waste management, but reuse, recycling and responsible manufacture could support the development of new industries and jobs, reducing emissions and increasing efficient use of natural resources including energy, water, and materials. Despite the growing case for the circular economy, barriers still exist.
A more circular economy can benefit: the environment, by cutting waste and carbon emissions; the economy, by improving productivity and opening new markets; and communities, by providing local employment opportunities and lower cost options to access the goods we need.
References, https://www.zerowastescotland.org.uk/
Examples of thriving businesses using a circular economy
Mud Jeans in Holland,
In 2012 Bert van Son founded MUD Jeans. With over 30 years' experience in the fashion industry, he has seen it all. He witnessed that life for factory workers is extremely demanding, and that the endless demands for material, due to exploded production, are ruining our planet. He wanted to do things differently.
Why jeans? Well, jeans are one of the most polluting items in fashion. Using 7000 litres of water and nasty chemicals. With over 200000 million jeans being sold yearly, the impact of recycling jeans and using organic cotton can be huge. Bert believes that having fun without destroying the earth and its resources is possible.
Together with his team, Bert transformed MUD Jeans into an exemplary circular fashion company, introducing the pioneering 'Lease' a jeans model in 2013 and consistently putting the circular economy principles into practice.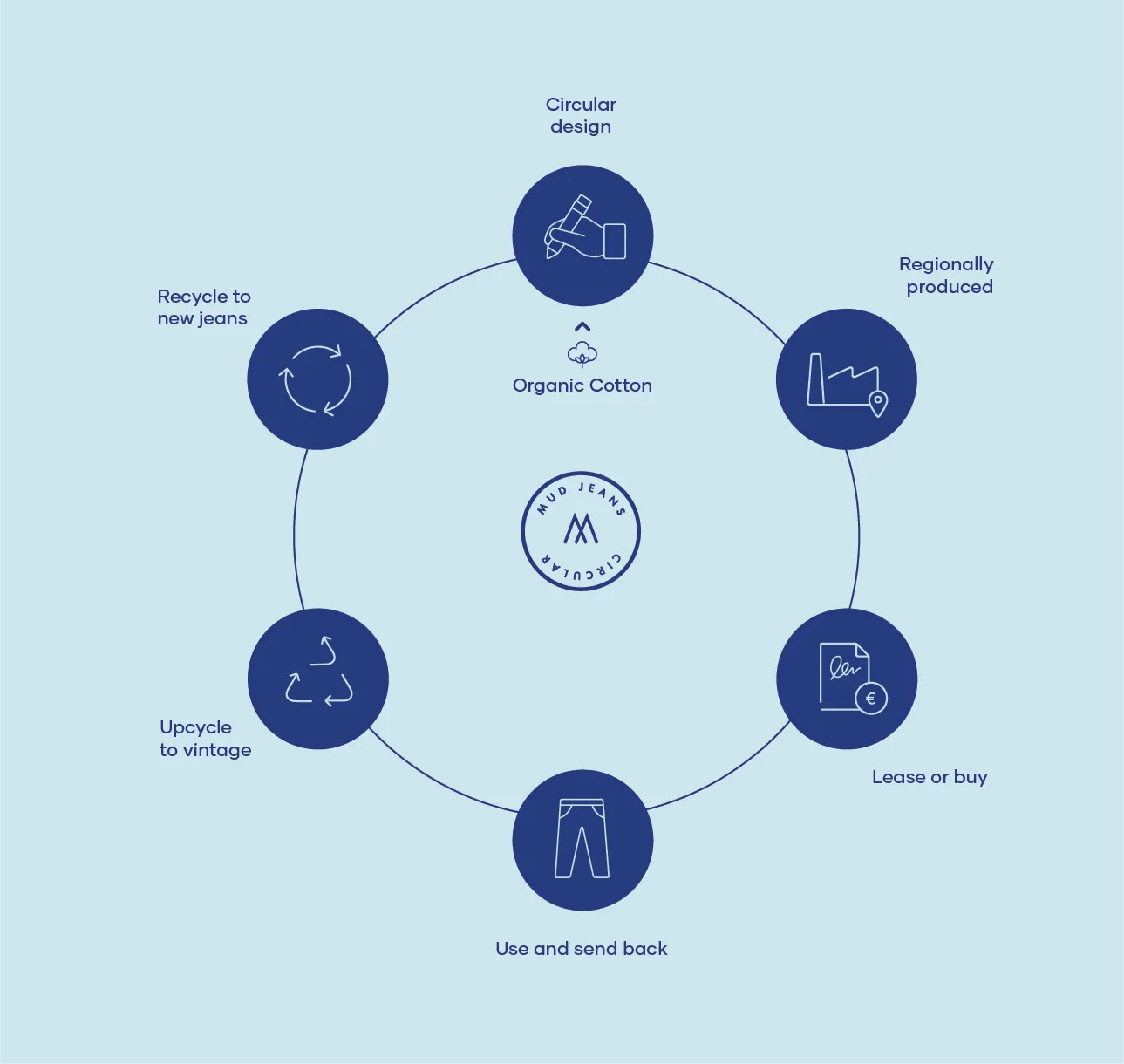 After 12 months paying your monthly fee, you can keep your jeans, swap them for a new pair or send them back. After you have used use the free return label, we start the process of making new jeans from your old jeans. Keeping the materials in a closed loop.
Bert van Son https://mudjeans.eu/pages/our-mission-about-us
Argent Energy in Scotland and North West England, Established in 2001 and acquired by John Swire & Sons (Green Investments) Ltd in 2013, Argent Energy is a privately owned company with operations in Scotland and North West England.
By producing environmental fuel, our aim is to continue contributing to the global battle against climate change and help the UK maximise the reduction of greenhouse gas emissions from transport. We specialise in the supply of high grade, sustainable diesel for fleet operators, delivering to over 100 UK depots from Kent to Dundee. We aim to provide the best economic value to our customers and, with a range of greenhouse gas savings from our products, we can also provide best environmental value.
All the bio-­component of our diesel is made in the UK from waste fats and oils. We specialise in producing our clean, green fuel from waste by-products of other industries - tallow, used cooking oil, fats oils and grease, sewer grease and high FFA products - which have few alternative uses. This ensures it is the most sustainable available and we deliberately exclude any raw materials that could also be used for food or feed. Argent has two manufacturing facilities for waste-­based biodiesel and following a recent £75million investment, the production capacity will be 145 million litres per year.
Argent Energy https://argentenergy.com/
CCL (North) Ltd, Is one of the UK's leading specialists for IT asset disposal and recycling. From our 25,000sq ft facility in Irvine, we provide secure, environmentally safe, and compliant recycling services to a broad range of business sectors. Our Managing Director Bruce McLean has worked at the forefront of electronic recycling for decades and has been with CCL since it was established in the year 2000.
Bruce and our team have grown CCL into an industry-leading computer recycling business that cares for it's staff, customers, local community and the global environment. Our sister company Restructa Ltd. specialises in recycling TV and Display products. Together, we provide one of the most comprehensive recycling services in the UK, jointly offering a total of 50,000 sq ft of processing across our secure facilities. Both facilities are equipped with the latest technologies and equipment to provide the highest recycling rates across the UK.
Restructa has launched a new decorative glass aggregate product, Glasglo, made entirely from recycled TV screens. This innovative product can be used in a number of ways including driveways, gardens, pot toppers, ponds and water features. Glasglo is created through a unique process starting from recycling. https://www.cclnorth.com/
CelluComp is a company which turns nano fibres from root vegetables into an environmentally friendly thickener for paint.
Ogilvy Spirits is Scotland's first Potato Vodka producer, making vodka from potatoes not suitable for retail.
OI currently produce around 2 million bottles per day and up to 800 million per annum. They do this using up to 20% recycled flint, 70% recycled green and 25% recycled amber glass.
Peel Tech is a Scottish invention which takes waste from a typical potato peeler separating waste skin and compacting potato starch so that drains are free from waste and peelings can be used for animal feed. The technology is being rolled out across typical "Fish and Chip" shops across Scotland and helps businesses comply with Waste Regulations.
Jaw Brew in partnership with
Aulds the Bakers has created a zero waste, low alcohol beer from leftover bread rolls. The "Hard Tack" beer is now available to buy around Glasgow.
Juice upgrades their customers' lighting to LED by offering a leasing model for LED lighting, based on the concept that a business customer only needs light, but does not need to own the light fixtures and fittings.
Spruce Carpets, a community enterprise, uplift, refurbish, supply, deliver and fit used carpets and carpet tiles for residential, domestic and commercial customers.
Vegware are the only company In the UK to develop, manufacture and distribute a full range of completely compostable food packaging and catering disposables.